MEET THE MOST POPULAR SHOULDER BAG OF 2022

THE PRACTICAL TOUCHSCREEN HANDBAG
Tired of the bulky bag with all the junk in it? The Crossbody Touchscreen Clutch is a new compact clutch handbag with a

 

Touch screen panel on the back that lets you set your

 

able to use cell phones.

 

So you can take your cell phone, money, credit cards, keys, lipstick, ID cards and much more with you . There are 2 types of fasteners: a strong zipper and an elegant clip,

 

which fashionably enhances every outfit.
COMPACT:
The crossbody touch screen Clutch offers space for everything, what you need with you: your Cell phone, receipts, keys, cigarettes, some makeup and much more. The best part is that you can use your phone without taking it out of your pocket.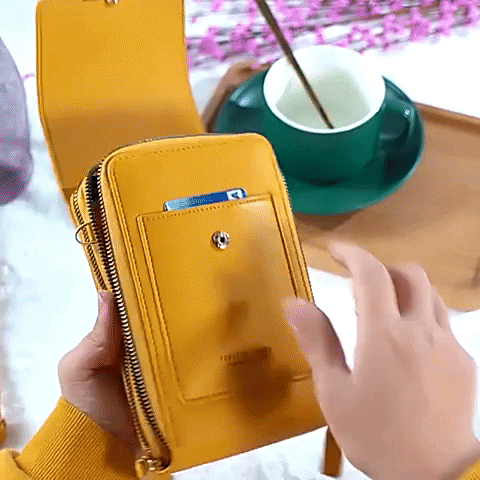 EASY TO CARRY :
Never doubt again if your bag is too bulky. With the touch screen bag you are comfortable on the go. Perfect for an evening, a stroll or a day on the town. The Crossbody Touchscreen Clutch is ideal for any occasion.
THE MOST EFFICIENT BAG :
The clutch handbag has on the A touchscreen panel on the back that you can use to operate your mobile phone. This way you don't have to take your phone out of your pocket to use it. Perfect when you're on the go. So you can always keep your valuables safe.
IDEAL FOR THE BUSY WOMAN :
The clutch has multiple pockets for all your accessories like cards, lipsticks, loose change and more. The perfect bag for you!
GOES WITH EVERY OUTFIT :
The CROSSBODY TOUCHSCREEN CLUTCH™ is a combination wallet and handbag in one. That means: no more shoulder pain or neck tension. The adjustable strap allows you to adjust the height just the way you like it. You have your hands free, but you still have everything with you.
WILL MY MOBILE PHONE FIT IN?
Almost every mobile phone fits in the outer pocket of the normal clutch. That's because it's 19cm tall (the Samsung Galaxy S20 Ultra is the world's largest smartphone at 17cm). All iPhone models (including MAX) fit easily in this case.
AVAILABLE COLOURS:
Due to the high vitality and our special sale, there are only a few CLUTCH™ bags left. Do you want to improve your looks and feel more confident? Don't wait too long because we're almost sold out!
24/7 Customer Service: You deserve quick help. That's why our support team is here for you around the clock, 24/7.
Free Priority Shipping: You deserve top priority and fast delivery. If you order before 11:59 p.m. today, your package will be on its way to you tomorrow. We cover the shipping costs and you always receive a tracking number.